H-Sphere Installation Request
Requirements
Prior to requesting the installation, please prepare your servers.
Note: Setting up new software may affect the operability of your server, thus there must not be any production software running. Positive Software takes no responsibility for any hardware and/or software failures that may occur during installation.
Installation Fee
To see the prices for H-Sphere installation and other services, please refer to Price List.
Duration
If the servers are carefully prepared and all requirements have been satisfied, the installation procedure, including post-installation testing, usually takes a couple of hours. However, it may take longer, depending on the number of servers in the cluster, connection speed and other factors.
Note: do not operate the system until you are notifed that the post-installation tests are over.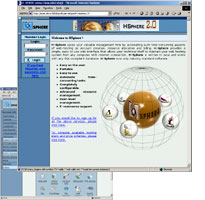 Procedure
Go to our support page.
Click Buy support for H-Sphere.
Select the options desired for your product license.
Go through the form that appears.
Click Place the order to apply Installation request.
Required Info
To install H-Sphere for you, we will need the following data:
H-Sphere License
Company Name;
Contact information and mailing address;
The domain name you are going to use with H-Sphere. This domain name will be used for server names, such as cp.yourdomain.com, mail.yourdomain.com, web.yourdomain.com, ns1.yourdomain.com, ns2.yourdomain.com, and for third-level hosting, such as customerdomain1.yourdomain.com, customerdomain2.yourdomain.com. If necessary, you can use different domains for different servers or third level domain hosting;
The list of servers you want to use (IP's);
For every server:

Username of the users able to telnet or ssh and run su command;
Passwords for that user;
Root password (Important: Make sure to change root password after installation, for security purposes).

To have H-Sphere installed on internal IPs, specify which internal IPs will correspond to which external IPs.
If you install a load balanced Web or mail cluster, please list specific IPs and paths;
Preferred H-Sphere configuration, i.e. what you want to install on each server
(if this is not specified, we'll choose the configuration by ourselves).